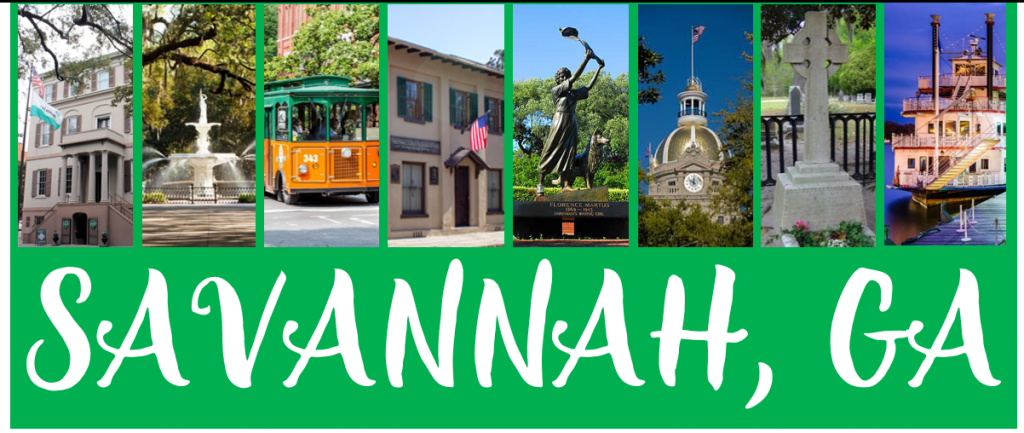 Travel Dates: October 3-6, 2019
Group Capacity: 24
Travel Cost: $500.00
Flexible Payment Options
Must register by September 16, 2019
Welcome to Savannah, Georgia, a charming Southern escape.  Draped in Spanish moss and bursting with natural beauty, Savannah charms its visitors every day.  Warm temperatures welcome those who come to enjoy art, architecture, coastal cuisine, trendy boutiques and ghost stories.  It's where history resonates into the present day, and where memories are still being made.
Of all Savannah's citizens, past and present, few have had the reach and influence of Juliette Gordon Low.  Known throughout the nation as the founder of the Girl Scouts of the USA, her former homes and her grave in Savannah are visited annually by thousands of Girl Scouts.  Trace the path of Juliette Gordon Low's life, achievements, and the Movement she founded.
For more information or questions, contact Lydia Sealey at lsealey@citrus-gs.org.
Round-trip Transportation
Passenger van, 5 hour road trip
Hotel Accommodations
Overnight stay in a safe, quality hotel, convenient in town location.
Meals
Breakfast, Lunch, Dinner; 9 meals
Traveler Resources
Sightseeing tours led by licensed local guides; tickets to all activities.
We offer flexible payment options and available to answer our travel questions.
Day 1
Arrive in Savannah, GA
Private Trolley Tour of Savannah
First African Baptist Church
Lady and Sons
Savannah City Market – Free Time
Day 2*
Forsyth Park
Juliette Gordon Low Birthplace
Christ Church Episcopal
Mrs. Wilkes Dining Room
Andrew Low House
Girl Scouts First Headquarters
Laurel Grove Cemetery
Waving Girl statue
River Street – Free Time
Day 3
Bonaventure Cemetery
Fort Pulaski
Tybee Island Light Station
Tybee Island Marine Science Center
Trolley Ghost Tour
Pirate's House
Free Time
Day 4
Church Service available
10:00 a.m.
First African Baptist Church
Christ Church Episcopal
St. John the Baptist Catholic
River Street – Free Time
Arrive in Orlando
* Day 2;  The walking tour, you'll walk for about 2 miles total for the day, mostly flat sidewalks, some cobblestone roads, a sandy path, and a steep hill; (steps are available).  Transportation will be provided for those unable to walk the distance.
Payment Options
Pay in full $500.00
-or-
Make flexible monthly payments
A $100.00 deposit is required to reserve your space.
Refund Policy
Cancellations made on or before July 1, 2019, will result in 100% of fees refunded.
Cancellations made from July 2, to August 1, 2019, will result in 50% of fees refunded.
Cancellations made from August 2 to September 15, 2019, will result in 25% of fees refunded.
No refunds will be issued for cancellations made after September 15, 2019.